Today I'm going to introduce you a very simple appliance prototype, that is supposed to help us to reduce our household water compsumtion.
Since the idea came up, I've been 'googling' trying to find any commercial device aimed to help us to know the shower water consumption, and we can therefore reduce our water footprint. Some related content:
Obviously I'm NOT talking about this "lo-cost shower meter" – ECO Showerdrop. This kind of devices doesn't manage water flow measurement, acting just as a timer, even if the manufacturer paint it blue 🙁 !
Thinking about this Massimo Banzi speech, "…scratch with your own itch…", I decided to construct a new one, designing it from scratch. A lot of water has flowed through the shower the bridge since then 🙂 , but finally we have the first working prototype.
The initial idea has been kept simple. The main components:
I'm not very proud of the result, but I must recognize it has two 'PROs':
It works for the purporse it has been designed: to know the shower water compsumption  (and obviously, the monetary cost of it). As I always say, to measure something is the first step if you want to improve it.
Now I have a lot of ToDos, so it allow me to keep "making stuff", that i love.
Cons:
It is an highly energy-inefficient device 🙁
It works standalone, not ready for The Internet of Things
The case is very big and ugly (sorry, it is my toy, I can told whatever i want about it 🙂 )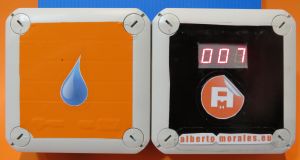 NEXT STEPS
Improve power efficiency. Maybe it is possible to make it self-sufficient, needing no external power source (battery).
Identify the guy who is taking the shower, may help us to gamify the goal. Don't forget that the goal (other than enjoy myself making stuff) is to reduce the water consumption, and to create good habits while taking shower. I've been thinking about some kind of RFID system, but I think we'll talk about this in another post…
And last, but not least, put it into a nice case, like this one, this one or this one. I think it could be prototyped using a 3D printer, but i have no idea about how to start, although I've been reading about it some time ago. Probably someone from the Maker Community can be interested in this modest project, and he/she want to start working with me in the V.2 prototype.
If you'd like some doc, info, or any help to reproduce this prototype, or if you just have any questions or need further information, please don't hesitate to contact me.
Any ideas or comments are welcome. Do you want to form a permanent group that works on any project? Or do you only want to work together for a single idea? Please let me know.
---
– Puedes leer la VERSION EN ESPAÑOL de este post aquí –