Our kids are living in an age when they have the tools to bring their ideas to life like never before, and I think we must expose them to this tools and technologies.
During the last week I have been conducting a workshop for elementary school kids, on the topic of electricity, electronics and robotics.
The purpose is having fun learning about science with this cool activities. Enjoy interactive activities helps kids understand the amazing world of electricity and digital technology.
The workshop was open to registered kids between 8 and 12 years, and we invited them to group up in teams of 2 people.
I am so happy to see kids experimenting with electronics and micro-controllers, and have had similar experiences in the past, so I was in charge of designing the contents and conduct the experience.
My approach is basically to introduce them some concepts, make some practical experiments about it, and immediately apply the contents building some thing.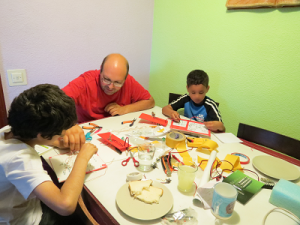 I'd like to share you a first week (two days) brief description:
---
Day 1
During the first day, we covered the following topics:
Security rules

AC

/ DC
Voltage  v.s. current
Measuring electricity: polymeter
Wiring batteries in series and parallel
Materials:
9v battery
Snap on 9V (9 Volt) Battery Clip Connector
12v small bulb
small bulb holder
Some wire
2 solder lugs (hole diameter: 3 mm)
2 banana plugs
Tools:
Different types of batteries
polymeter
wire cutting plier
flat nose plier
soldering iron / solder
switch
push button
Practices:
Simple 9 Volt lantern circuit  (battery – bulb – switch)
"Simple memory game machine " – core module
Day  2
During the second day, we covered the following topics:
Soldering skill: Teach kids the basics of soldering and let them experiment for themselves, using a soldering iron. Children can work by themselves or in pairs, depending on numbers.
Basic electronics circuit diagrams
Materials:
clear self-adhesive film
M3x10 screws & M3 nuts
2 solder lugs (hole diameter: 3 mm)
two face adhesive tape
some wire
Prerequisites:
To have built the "Simple memory game machine " – core module  (first day's practice).
To have printed an image with several  areas to memorize, and the related  areas name's list (it could be a map, body's parts, vocabulary flash cards, etc.)
Tools:
soldering iron / solder
screw driver
flat nose plier
Dremel style mini rotary drill
Practices:
"Simple memory game machine " – first interchangeable board
---
We will continue next week, and we'll keep you informed about next sessions.
¿Are you working with kids on any electronics projects? If so, or you're interested in receiving more information, please post them in the comments so we can write about it! Thank you very much!
– Puedes leer la VERSION EN ESPAÑOL de este post aquí –